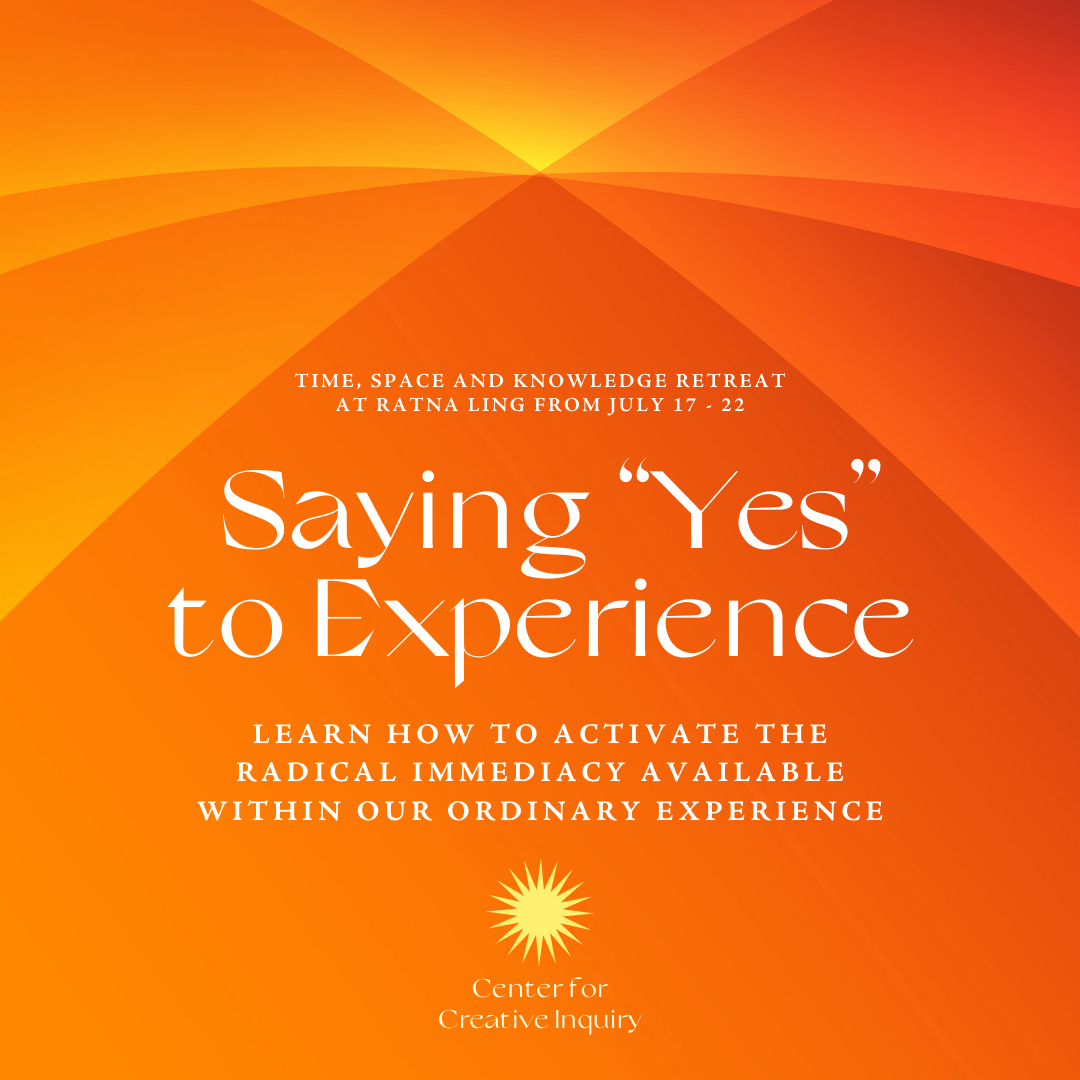 Saying Yes to Experience Mini-Retreat Online
Invitation for online participation in Ratna Ling TSK Retreat
July 17-21
For people who cannot attend the July retreat, there will be an opportunity to participate online. Here is a description of how this will work:
Five online sessions
All online sessions will be ninety minutes long.
The first session will be held Sunday, July 17 at 9 AM Pacific time, 12 noon East Coast time. This session will be only for online participants. The idea is to make introductions, introduce the program, and offer orientation how to participate, including introducing basic exercises.
The remaining sessions will be held Monday through Thursday at 4 PM Pacific Time, 7 PM East Coast time, and will be held jointly with Ratna Ling retreat participants.
Commitment to Practice
All online participants must commit to practicing 3 hours a day, Monday through Thursday, approximating a retreat experience. These sessions will offer opportunities for discussion and questions.
Cost: $140
Please contact morgan@fullpresence.org for requests for financial assistance.
Instructor
Jack Petranker

Instructor

Jack Petranker (he/him) is the founder of CCI and regularly offers courses and retreats. He is the author of When It Rains, Does Space Get Wet? (Dharma Publishing 2006), and has written numerous academic articles in consciousness studies, organizational change, political transformation, and the value of work as a spiritual practice. Jack holds an MA in political theory from UC Berkeley, and a JD from Yale Law School. He is also the Director of Mangalam Research Center in Berkeley, CA.