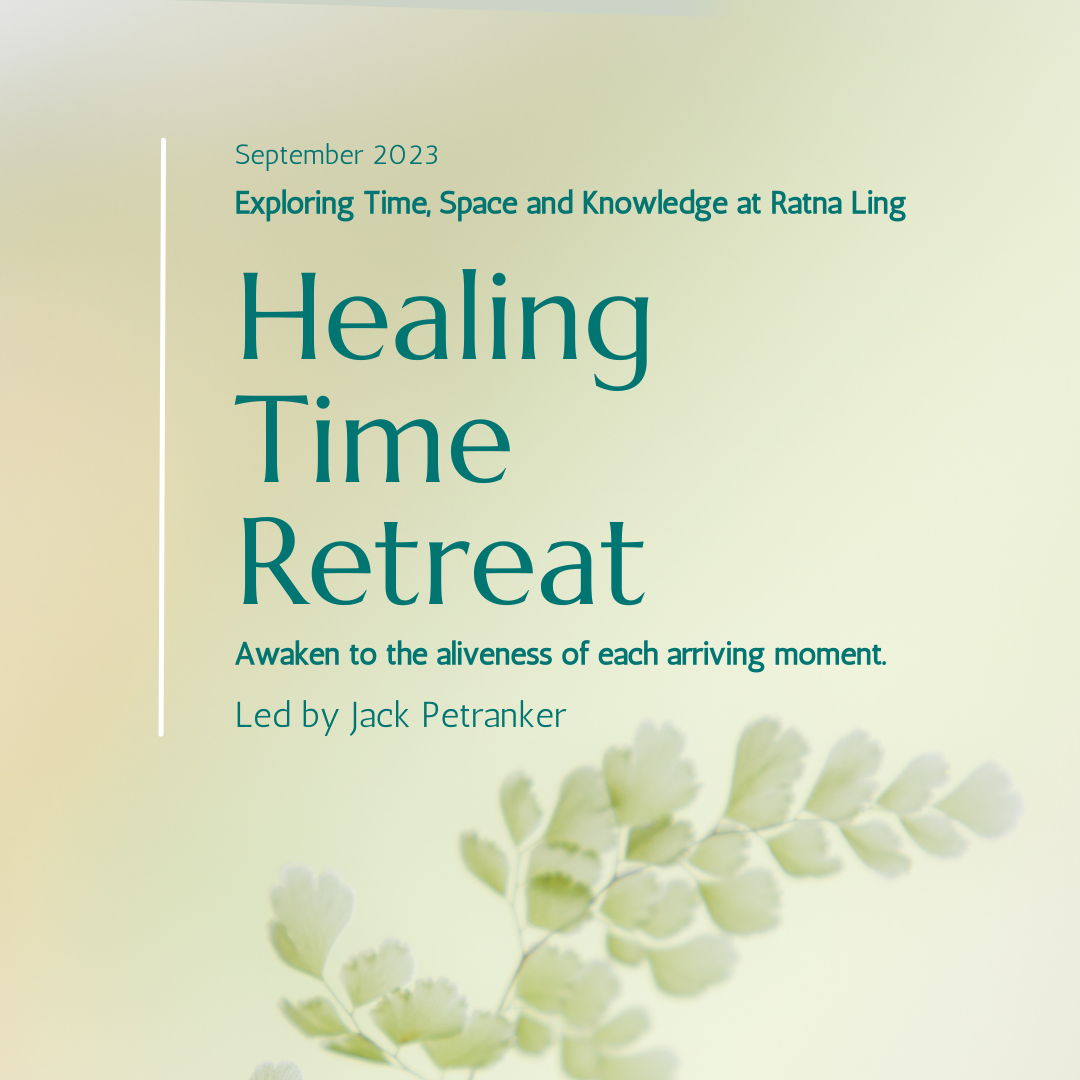 Healing Time, a retreat at Ratna Ling Retreat Center
We live on the surface of time, moving from moment to moment without ever really connecting with time's inner dynamic. Cut off from the depth of experience, we easily feel frustrated, isolated, emotional, and resentful.
It doesn't have to be that way. We can heal our connection to time, and discover that time is the beating heart of experience. It's like finding our way back from exile, like coming home. New ways of knowing and being become available, and we move naturally toward joy and inner peace.
This retreat will draw on short readings from Chapters 29 and 30 of Tarthang Tulku's Dynamics of Time and Space. It will emphasize practice and discussion.
Location & Accommodations
We are pleased to offer this summer retreat at Ratna Ling Retreat Center in Sonoma County, one of the premier retreat centers in Northern California (www.ratnaling.org).
You will be staying by yourself or with one other person in a luxury cottage. Whether or not cottages are shared depends on COVID-19 conditions at the time of the retreat. In shared cottages, each person has their own room; the bathroom and living room is shared. For details, see: https://ratnaling.org/accommodations/
Gourmet vegetarian meals are included with the retreat; vegan and gluten free diets can be accommodated.
Retreatants will take turns helping with kitchen cleanup.
Sample Schedule
7:00-8:00        Optional Kum Nye
8:00-9:00        Breakfast and cleanup
10:00-12:30    Morning session (with 15 minute break)
12:30-1:30      Lunch and cleanup
1:30-4:00        Individual practice/time off
4:00-5:30        Afternoon session
5:30-7:00        Dinner and cleanup
7:30-9:00        Evening session
Price
The full price is $1,595 for the retreat, which includes meals and lodging. Please pay full price if you have the means to do so, as we are paying the facility for the space. If you need a discount, please apply one of the following discount codes on checkout according to your need:
25%off
50%off
If you need further financial assistance, please don't hesitate to contact morgan@fullpresence.org and we will see what we can work out.
Cancellation Policy
All bookings can be canceled within 24 hours of booking for a full refund. Full refunds, less transaction fees, are also offered if you cancel at least 90 days in advance of the beginning of the retreat. 50% of the booking will be refunded if you cancel at least 30 days in advance of the beginning of the retreat. NO REFUNDS will be offered if you cancel less than 30 days prior to the beginning of the retreat; however, you may opt to apply your payment toward a future retreat or program that will take place within 1 year from the time of the original program date.
Instructor
Jack Petranker

Instructor

Jack Petranker (he/him) is the founder of CCI and regularly offers courses and retreats. He is the author of When It Rains, Does Space Get Wet? (Dharma Publishing 2006), and has written numerous academic articles in consciousness studies, organizational change, political transformation, and the value of work as a spiritual practice. Jack holds an MA in political theory from UC Berkeley, and a JD from Yale Law School. He is also the Director of Mangalam Research Center in Berkeley, CA.