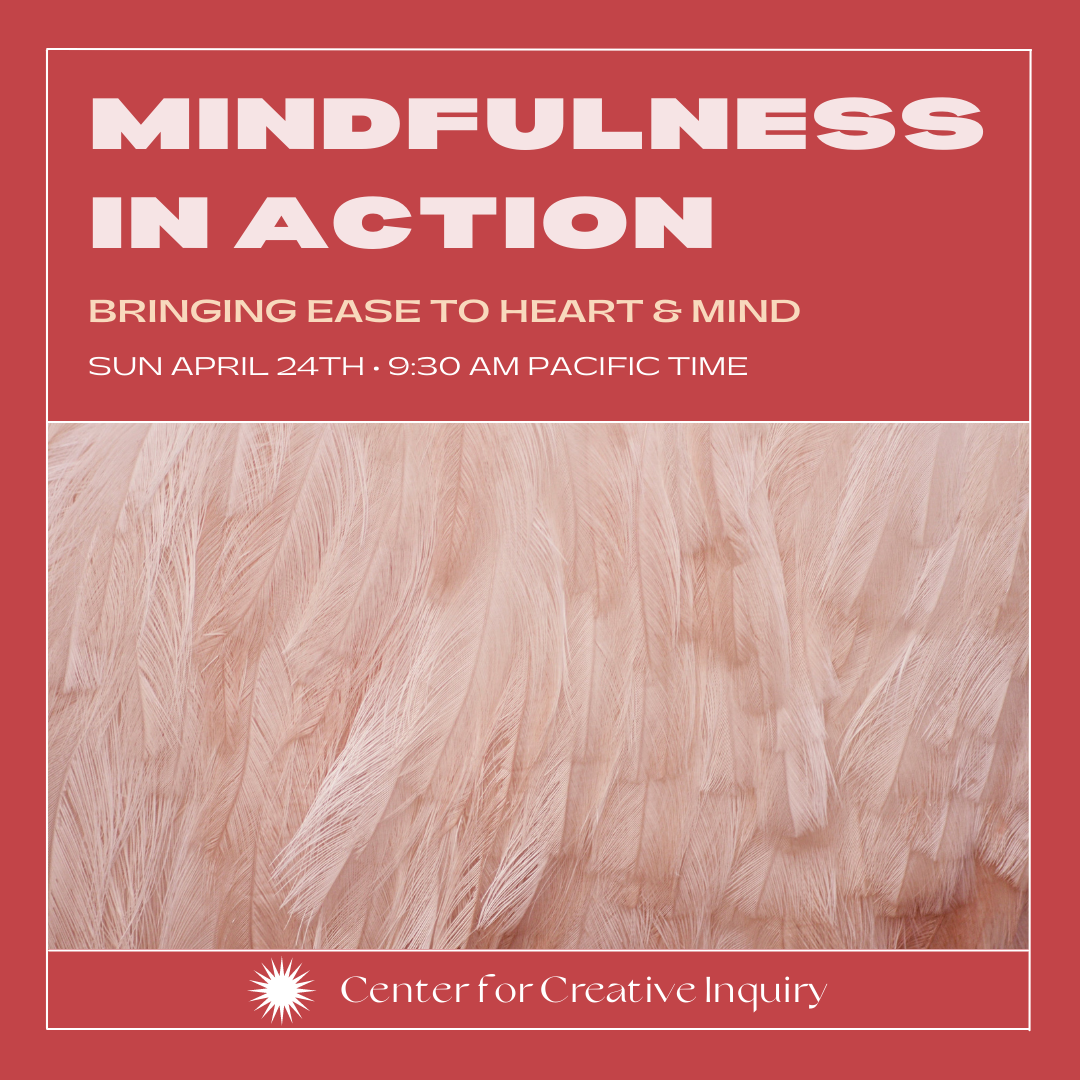 Bringing Ease to Heart & Mind
Our Mindfulness in Action Series explores how to apply mindfulness to the things you do every day—working and playing, cooking and eating, planning and parenting. Whether you are interested in self-care, relaxation, or finding deeper meaning, you can start with bringing awareness to the ordinary activities that make up your life. 
In the first workshop of the series, Bringing Ease to Heart & Mind, we'll discuss how to activate our capacity for caring and acting in the world. We'll go on to explore the issue of burnout and how to develop the inner resources to engage with the work we care about in a sustainable way.
The full price is $24 for the workshop. Please pay full price if you have the means to do so. If you need a lower price, please apply one of the following discount codes on checkout according to your need:
25%off
50%off
Instructors
Morgan Wells (she/her) is the director of the Center for Creative Inquiry. She is a practitioner of TSK and Buddhism who has studied with Jack Petranker and other senior students of Tarthang Tulku since 2007. She completed the Nyingma Institute's Path & Practices of Liberation program (1,200 hours) in 2010 and Four-Month Human Development Training Retreat (638 hours) in 2014. Her teaching focuses on Skillful Means, Full Presence Mindfulness, and Time, Space, Knowledge. Morgan is also an attorney and a full-time working mom of twin toddlers.
Ignacio Ercole (they/them) is a psychologist, artist and mindfulness trainer. They have been trained as a psychodrama facilitator and contextual and mindfulness based therapy psychology. They teach mindfulness programs for general audiences and for educators including mindful art classes and mindful eating sessions. Currently they are completing teacher training programs in Full Presence Mindfulness and Kum Nye Tibetan Yoga.
The Standard Enrollment ticket sales has ended!