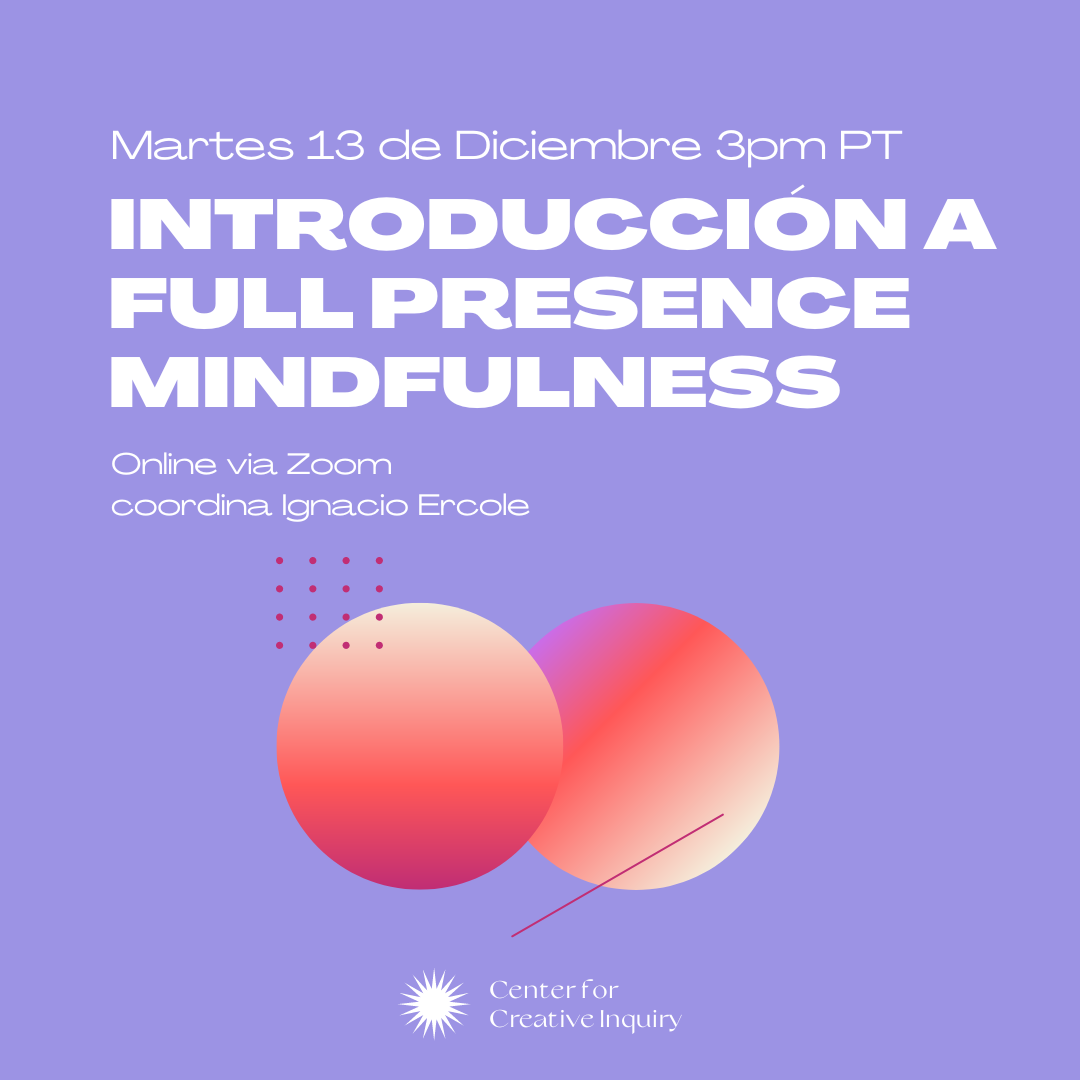 Introducción a Full Presence Mindfulness • Diciembre 2022
Hay 10 lugares gratuitos para realizar el workshop: ingrese el código DICIEMBRE durante el registro. No  se registre con el código si no tiene la intención de asistir al taller.
Full Presence Mindfulness (FPM) ofrece una visión unificada de quiénes somos y cómo podemos lograr un cambio significativo en nuestras vidas. Basada en el momento presente, esta forma única de practicar mindfulness abre todas las dimensiones del campo de la experiencia: nuestras sensaciones, emociones y pensamientos, así como nuestros valores e intenciones.
En este taller online comprenderemos las características únicas de FPM, la diferencia con otros tipos de mindfulness y cómo practicarlo.
Fecha y hora:
**Martes 13 de Diciembre 3pm Pacific Time** UTC-7
Lima, Peru 5pm UTC-5
Ciudad de México, Mexico 5pm UTC-5
Bogota, Colombia 5pm UTC-5
Santiago, Chile 6pm UTC-4
Buenos Aires, Argentina 7pm ART UTC-3 hours
Montevideo, Uruguay 7pm UTC-3 hours
Costo: Gratis, abierto a donaciones
Ignacio Ercole (elle) es une artista vegane queer, psicólogue y entrenadore de mindfulness . Ha recibido formación como facilitadore de psicodrama como también en terapia contextuales de tercera generación basadas en mindfulness. Ignacio enseña programas de atención plena para audiencias generales y educadores, además de clases de mindful art y sesiones de mindful eating Actualmente es directore de arte del Center for Creative Inquiry, diseñadore gráfico del Mangalam Research Center y directore de arte y cofundador de Venus in Cancer.
Instructor
Ignacio Ercole

Art Director

Ignacio Ercole (they/them) is an argentine vegan queer artist, psychologist and mindfulness trainer. They have been trained as a psychodrama facilitator and contextual and mindfulness based therapy psychologist. They teach mindfulness programs for general audiences and for educators including mindful art classes and mindful eating sessions. Currently they are the art director of the Center for Creative Inquiry, the graphic designer for Mangalam Research Center and the art creative director and co-founder of Venus in Cancer.