A re-imagination by Jonathan Clewley, based on a yearlong study with Caroline Sherwood.
Synopsis of a novel aid for Creative Inquiry
Those who have not yet experienced the intellectual and experiential joy of reading Visions of Knowledge will, when they do, encounter a work that sits midway between the five main TSK volumes and the books of the 'Perspectives on TSK Series'. Visions of Knowledge is divided into two major parts written by Tarthang Tulku, followed by two appendices written by TSK students. The two major parts comprise first, sixty 'Questions for Inquiry' (25 concerning Space; 5 Time; 30 Knowledge), and then, second, nine chapters which take the reader on a 'Journey into Knowledge'.
Herein is proposed a radical reimagining of Visions of Knowledge to make it deservedly more widely known and accessible as a working tool for the creative inquiry into knowledge that it invites the reader to make. It involves abstracting the major parts written by Tarthang Tulku and re-presenting them as a study tool in the form of a deck of cards, which would be accompanied by an "instruction" manual—essentially the 'Journey into Knowledge' section of Visions of Knowledge. This collection of nine essays describes tools for our creative inquiry including patience, care, appreciation, imagination, speculation, engagement, subtle introspection, prayer, allowing for the unexpected, inquiring at the point of non-knowing, and open trance.
There are sixty Questions for Inquiry, the text of most of which would fit onto one card. The contemplator of the deck would be able to select one card for a period of meditative inquiry, while also having the text of the 'Journey into Knowledge' as a study aid. The back of each card would have a unique visionary image created by a TSK artist.
Visions of Knowledge is:
"… a way for the truth of knowledge to suffuse our being—to expand from the realm of thought to transform who we are." (p5)
It is an awesome, beautiful, and powerful teaching, petitioning to be liberated as 'an aesthetic of awareness' (p151), which is imagined here as a deck of 'Visionary Knowledge Cards'. These would be aids for contemplation, described in the words of the book as "open trance," which:
"… is transitional. Not fixed in nature, not known in advance, it releases the mind vastly for an influx of new knowledge. The result is creative inspiration and immeasurable riches. As mind embraces its own freedom, knowledge can expand without limit, progressing to enlightenment." (p148)
Examples of how three cards might look are shown here, one card from each of the three sections of the 'Questions for Inquiry'.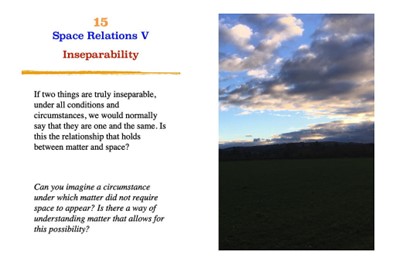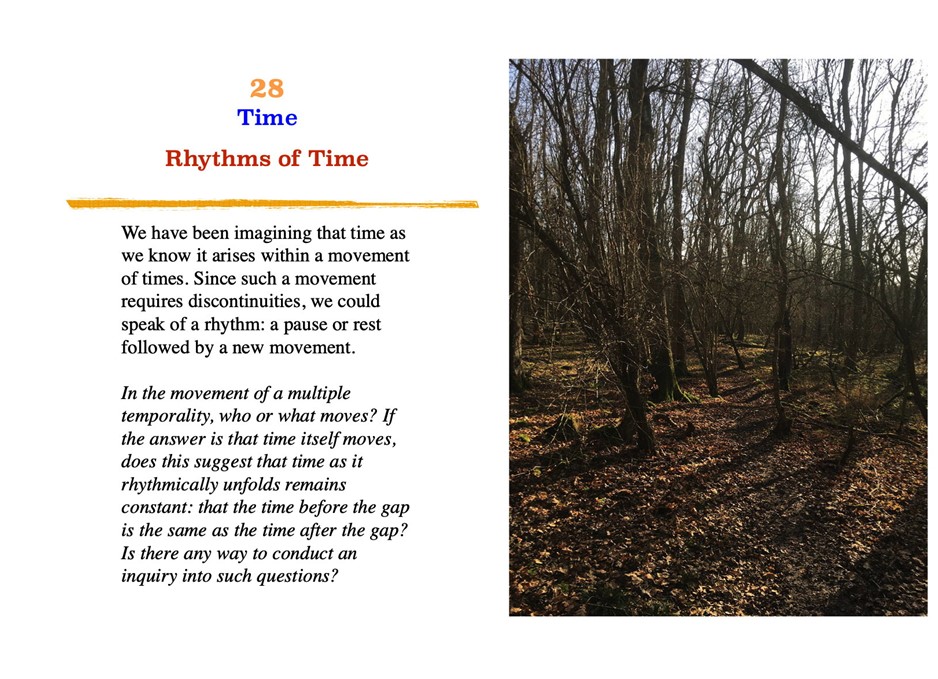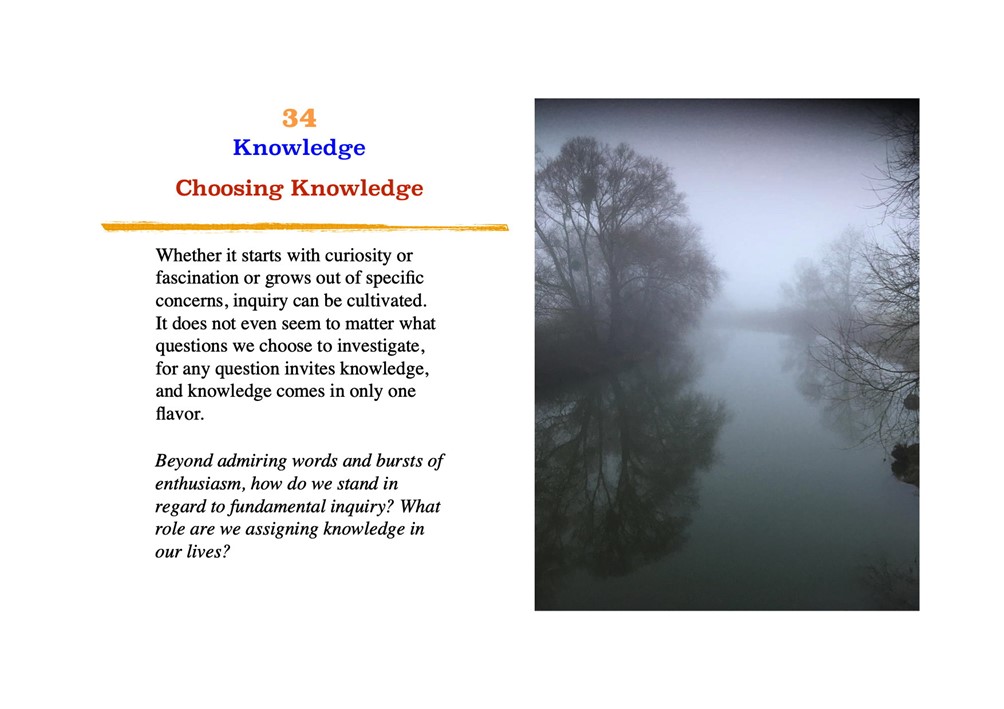 Examples of imagined Visionary Knowledge cards, front and back. Each card would have a unique image.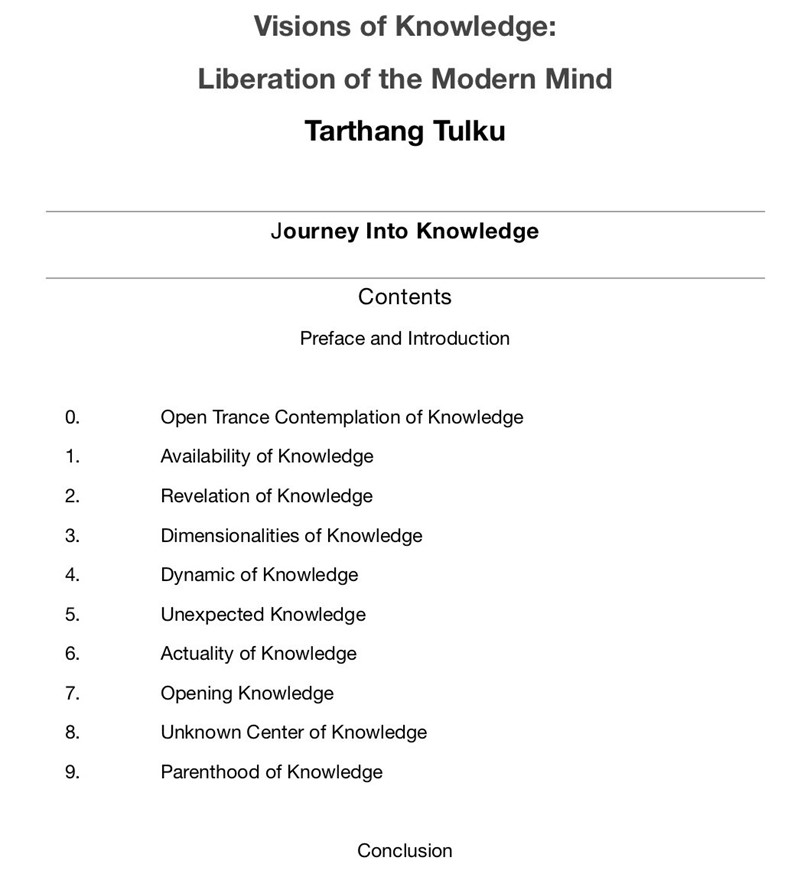 A Table of Contents for a booklet to accompany a Visionary Knowledge card deck
Accompanying the Visions of Knowledge deck would be a booklet with the essays from the 'Journey Into Knowledge' section of the book. A new chapter describing contemplation of the cards through "Open Trance," based on Tarthang Tulku's own words, might be helpful for the reader. This would follow the Introduction, which describes a transformation accomplished by the power of imagination and the process of inquiry so that:
"The gateways of the possible open to a new way of knowing. … As imagination activates a vision of reality taking form, we discover the freedom of knowledge. We return to the enchanted realm from which all things arise … Questioning invigorates imagination, and imagination in turn lets us question differently." (pp7-9)
Some of the ideas and themes in the essays in 'Journey into Knowledge' are sketched below to help the reader of this article appreciate its content as a companion to the visionary cards.
The Introduction starts by acknowledging the paradox that we assign knowledge to either the practical or spiritual domains, but fail to focus on its dynamic interplay with time and space. If, however, we do turn our focus to this dynamic, rather than being concerned with the categories of knowledge, we arrive at a new kind of understanding. We have access to the vast power of total and whole knowledge through our imagination.
The Introduction concludes by characterizing the nine essays as each having three modes of exposition. (pp63-4) The first, which should be read patiently, asks "how?" that is:
"… whether it is possible to evoke the power of knowledge directly."
The second mode, which should be read carefully, seeks "laws," that is it:
"… seeks to clarify the limits of established structures."
The third mode, which should be read appreciatively:
"…  makes the time-space-knowledge interplay the vehicle for inquiry."
Finally, the reader is invited, while reading, to:
"… consider the possibility that connections at a more subtle level may be operating—connections being presented by knowledge itself," and to: "Withhold your judgements, aware that non-knowing is the real gateway to transformation." (p65)
Thus, we are being invited to engage with Visions of Knowledge as a transmission in its most profound sense. It is the contention here that this process of creative inquiry will be aided by the re-presentation of the book as a deck of visionary cards.
Various themes run through the essays themselves, including the uniqueness of the nature of knowledge—that it is a nature that has its own purpose in appearing. Although the only investigative tool we have is the mind, we can loosen our dependence on mind's ordinary patterns of inquiry through the process of an engaged, imaginative speculation. And by acknowledging that there are no intrinsic limits on knowledge, as it is within and infuses all appearance, we are asked to consider the possibility of inventing a new mind. This new mind is the Body of Knowledge with its boundless gift and offering of knowledgability. The Body of Knowledge, the source of knowledge, is the not-known—not-knowing is the creative source of the known.
Although we acknowledge that, primarily, we only have the mind to investigate mind, there are ways that we can use it to greatest benefit. For example, thinking can be a pathway to knowledge—we can learn to think in a way that invites knowledge. The metaphor that is used is that of classically trained jazz musicians whose skills allow inspired improvisation because they are able to allow for the unexpected, in a way does not mean rejecting the known. Rather than giving up inquiry by deciding that nothing more can be known, we continue to inquire at the point of non-knowing, and thereby activate knowledge.
"In a TSK telling, there is not only one reality, one truth, one way—except for those who conclude with precision that this is the one way there is. Whatever we say, our saying allows for the opposite; whatever we affirm, our affirming leaves open alternatives." (p133)
One of the most potent ways of using the mind in our process of imaginative inquiry, and one that sits well with contemplating a question for inquiry on a card, together with its visionary image, is "open trance" at the "Unknown Centre of Knowledge:"
"… a radical shift is called for—a translation from one way of being to another. To describe this shift, we could say that the mind must enter an open trance. … the positive, healing response to the uncontrollability of ordinary mind: a transition to the freedom of knowledge. … We can learn to rest in the feeling of openness, whose 'object' is mind itself. … to cultivate the special 'aliveness' of such transitional times. … A sign … is the activation of a very subtle art of mind, an aesthetic of awareness." (pp147-51)
Pointing out that the TSK path of inquiry holds vast promise, 'Journey into Knowledge' ends with a remarkable statement about the book and its readers:
"The purpose of reading is not to have read it. In this moment you are at home with the source of knowledge, and your being is an expression of time and space. When you learn this, you know that there is nothing that you need to learn." (p176)
Perhaps, we might gloss that first sentence as: "The purpose of contemplating the cards is not to have contemplated them."
Visions of Knowledge is a hidden treasure, a blossoming flower concealed in a corner of Tarthang Tulku's gardens, waiting to be brought into full sunlight and admired for the beauty and wonder that it is.
Jonathan Clewley is a retired clinical scientist, now living in a small town in the English countryside. He first encountered Tarthang Tulku's teachings through Kum nye; subsequently, TSK became a subject of interest.